We're going to look at the key differences between the iPhone 7 on the Samsung galaxy s7. The s7 is slightly larger compared to the iPhone 7 14.1 meters. It comes to the high 2.5 meters in terms of the width and it's also 0.8 millimeters thicker the bigger device overall. But that is because it has a larger display 5.1 inches versus 4.7 inches on the iPhone 7.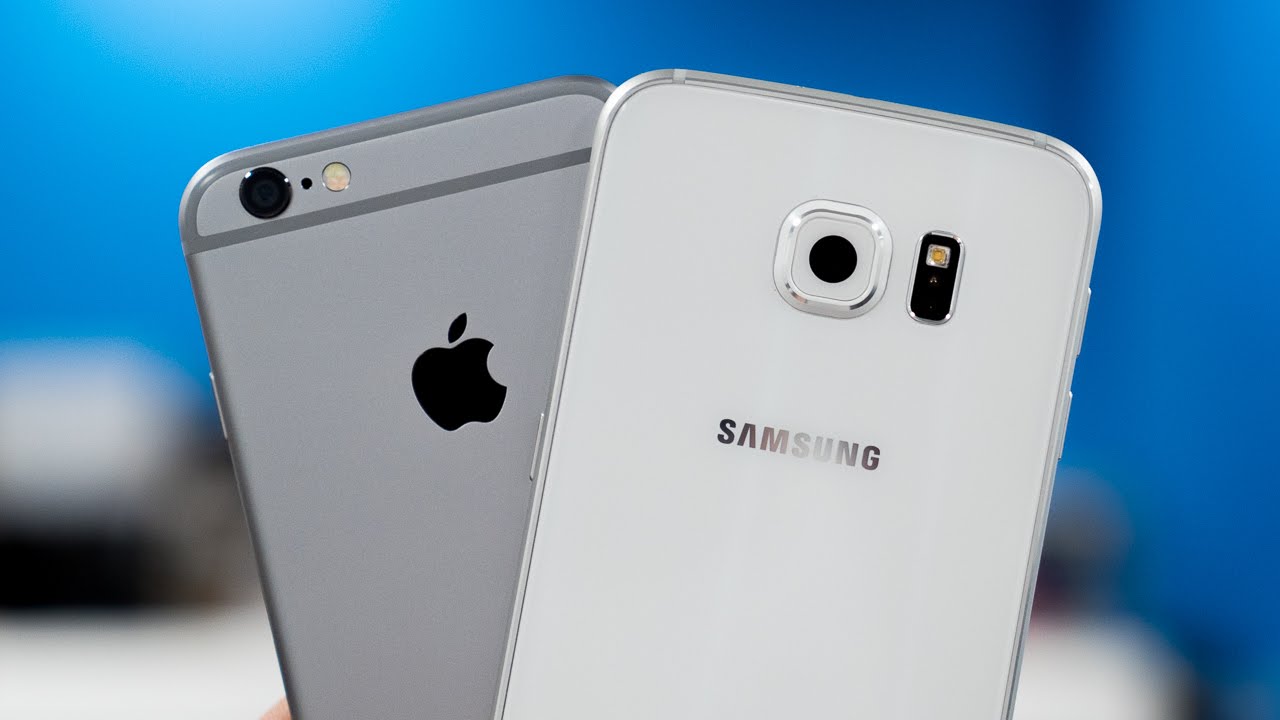 Different technologies here as well, we've got Super AMOLED on the s7 on the iPhone 7. You've got an LED backlit this place or similar to last year but it has been improved so you've got a wider color gamut and the s7 has been praised for its display . super amoled displays are generally a lot more colorful compared to LED displays. Now the iphone 7 does have three touches however so you can push down harder on set and absent things and that's gonna give you more options.  so it does add another dimension of interactivity with your smartphone . Quite a nice touch and the s7 has an always-on display  so if you want to leave your time I maybe your calendar and it will show certain notifications as well just a glance on your desk . now this hasn't been updated to we have on the note 7 so you don't have notifications from apps and things as yet hopefully that will come soon . 
Now one area where the s7 wins hands down is the resolution you've got quite HD so that's 25 60 x 1440 around about 576 PPI pixel density.  if you compare that to the iPhone 7 which still has the same resolution so that's 1334 x750 and talking about 326ppi is a massive difference here .
The s7 is a clear winner here with much sharper images compared to the iPhone 7 this has been the case of for the past few years now .I know pixel density isn't a big deal for most people but if you do look up close you're going to notice a difference for sure especially. if you're going to be using things like they are . Now the s7 is also slightly heavier 14 grams and we've got differences in billed as well the s7 has a metal frame with a gorilla glass panels in the front and back and the back is actually curved so this actually makes it a little bit easier to hold in the hand .
 The iPhone 7, on the other hand, has a very similar design to last year so the iPhone 6 and 6s I personally don't want to see a bit more of a refresh . This time, around we have the antenna bands redesigned so they are not running across the back as they were last year but relatively speaking it is a similar design. they also have two new colors , this time, we have a soft matte black as well as a jet black  .
One great thing this year is that both our water under stress resistance so the phone at seven is ip67 water and dust-resistant  the Samsung galaxy s7 is ip68 . So it's got the slightly higher rating so you're going to be able to take it a little bit deeper for a little bit longer in water .
I'm not sure exactly how much of a difference is going to make to day-to-day usage but it's great to see that both our water and dust-resistant. Now looking in a side both of these what's powering them a whirl on the s7 we have either the Qualcomm snapdragon 820 or the exodus version depending on which market you're from the iPhone 7 we have apples 18 fusion ship .
Now this has quad cause this time so you've got to cause of which are not as powerful and you've got two more powerful cause this supposed to save battery depending on what applications that you're using.  in terms of Ram, we have fucking advice on at the s7 we're not sure exactly what around we have on the iPhone 7.  I believe is to give advice but this has not been confirmed by apple .
In terms of performance, we are going to have to test the side by side you have to remember that the iPhone 7 is not pushing out anywhere near the number of pixels that the s7 . So this definitely has an impact on performance loads of these other things.  in terms of software optimization and things do go into it . So these will all come into play and at the iPhone, success was pretty fast.
Especially in terms of multitasking and reopening apps when I did do my test last year so that is something to bear in mind  . In terms of storage the s7 has 32 gigabytes as a base model and you do have a micro SD card slot so you can expand that storage .
On the iPhone 7, they have finally got rid of 16 gigabytes I'm so glad that this has happened if it hadn't happened.  I would not have bought the iPhone 7 because that would have been a big disappointment in this year but we do have any to give back to the base and then you also have a hundred twenty-eight gigabyte model as well as a 256-gigabyte mode.
l now you're gonna have to pay extra for those additional storage options on the iPhone 7 vs 7 the advantage here is that you won't have to spend as much because you can just pick out a microSD card and if you do go for the base model of the iPhone 7 you're gonna be stuck with that and if you do need more storage there's not really much you can do . Whereas on the s7, you can just go ahead and expand that so the advantage for storage .I would give to the s7 now let's look at the cameras at this year.
 It's going to be more of a competition than ever the s7 has a 12-megapixel rear-facing camera with an F or 1.7 aperture and optical image stabilization of this has been one of the best cameras of 2016 hands-down the same one as using the 78 as well as. the note 7 has been praised everywhere it produces some great quality images
The iPhone 7 has 12 megapixels as well with optical image stabilization, this time, this is something we didn't have last year and an f 1.8 aperture. So very very similar. In terms of the specification  the s7 does have the dual pixel to focus that this is the fastest  . I've seen on any smartphone so we'll have to test out your to focus speed because you still only have the standard or to focus that we had last year on the iPhone 7 .
However, you do have a quad LED flash the true tone flash has been updated and it is much brighter than last year. So if you are somebody who uses the flash morning smartphone then the iPhone 7 should be beneficial . Outcomes a video both of this different 4k which is great the iPhone 7 does have some more slow motion options so you've got 1080p 120 frames per second you've only got 1080p 60 frames a second on the ss7 terms of front-facing cameras we've got some improvements here as well on at the iPhone 7.
We have seven megapixels this time which I was not expecting on the s7 you've got five megapixels and F 1.7 aperture on the s7 an F 2.2 aperture on the phone at seven.  Once again we are going to put the side by side you've got the resolution here on the iPhone 7 whereas you have a wider aperture on the s7 x the video we finally have 1080p on that the iPhone 7.
This is something that we have seen first of this year previous year's Apple have just given a 720p which I just do not get why they had this for so long so it's good to see that they finally upgraded that to 1080p
On the s7, however, you do have a quality so 1440p so you've got a high resolution for video from the front facing camera for the operating systems you've got apple iOS 10 on the iPhone 7 on at the s7 you've got android marshmallow with the touch with skin on top.  There's nothing about the update when we're gonna be getting the update to Android and I'm not sure when that will be and that's something that you're gonna have to bear in mind that if you do go with the s7 you're not gonna be getting updates straight away from google they are gonna have to come through from Samsung whereas honor the iPhone 7 you're gonna be getting those updates straight away from apple .
However  in terms of the features obviously that's going to come down to your personal preference not going to go into a battle here in terms of additional features both of these do have a fingerprint scanner on the home button the s7 has a physical home button which you could push down on the iPhone 7, this time, it's not a physical butternut it's a force-sensitive butternut .so this is going to give you tactic feedback so it's quite different to what we had last year you wanna see the fingerprint scanning speed test between these two superstars style iPhone 7 has stereo speakers at this time so you've got two speakers whereas on that the s7 you've got a single button facing speaking out .
The bottom facing speaker on the s7 isn't great, to be honest, it can be covered easily so the error iPhone 7 would get the edge here and you do not have a headphone jack this year on the iPhone 7. This is something which was all but confirmed but now it has been confirmed and if you do want to use headphones and you can have to use.  lightning headphones  lining the parts are included in the box which is a nice touch and you also get a lightning converter so if you've got your existing headphones you can still use those but if you try to get on then you're not going to be able to use those headphones that are something that's a bit of a disadvantage you can get  wireless headphones obviously to overcome that but if you are somebody who likes white headphones and you also like to listen to music and things are and you are charging your phone then you're not going to be able to do that on the iPhone 7.
Just something to bear in mind now in terms of the battery the s7 that has 3000 milliamps an hour battery the iPhone 7 did not specify the exact size are expected to be between 1700 to 2,000 milliamps an hour and that is because it's the exact same size as the iPhone 6s.
 In terms of physical dimensions so the battery is expected to be roughly about the same although you are supposed to have some improvements over last year so you're getting roughly about fifty percent larger battery on it the s7 usage wise it will depend on Remember, you are working with so many more pixels on the s7 so you are going to be using that much more battery power . So this will really depend on from person to person and we will have to do some more specific battery test to see the differences. Here the advantage that you have with us seven is that you do have fast charging as well as fast wireless charging
So if you need a quick top up and for me personally this is very very useful so if I'm going to be going out somewhere and I need to quit up i could just leave this one choice for half an hour and will give me a good boost of a 40-year to fifty percent which is really really cool. On the iPhone 7,  we do not have this option which is quite a shame I would have liked to have seen fast charging at least on the iPhone 7 wireless charging is also useful so you just want to drop your phone on your desk where you've got wireless charger that's just gonna start riding straight away without any wires and you've also got fast wireless charging so it does charge it up quite a bit faster if you have something class wireless charges on the s7 this is not available on the iPhone 7 final looking at the price the s7 you can pick it up for about 550 pounds here off contract or roughly about  650 dollars in the u.s. So it has been out for a few months and this price is likely to also drop a little bit more . Going forward with the iPhone 7 is going to be coming at six hundred pounds here in the UK run about 650 dollars in U.S. online.
So you may be paying roughly similar sort of prices .You're going to be paying a little more for the iPhone 7 especially here in the UK and in the coming months because it is it your device so that is just something better in mind but generally speaking it is roughly about the same pricing that flagship price and the iPhone 7 is going to be available from the sixteenth of September whereas the s7 is currently available everywhere
So there we have it the comparison between the Samsung galaxy s7 on the iPhone 7 those are the key differences now both are pretty promising devices here and this year you are going to be paying about the same and there're lots more comparable things such as the camera specs as well as the base model you now have 32 gigabytes on both so it's gonna come down to your personal preference.