As we all know that Google has come with its smart messaging app, Google Allo. Google has already proven itself as a major player in  market and seriously reviews about Allo, which has been seen, are tremendous. It is actually more than  expected . And , I can say here , I don't have a doubt to say that a war has begun between WhatsApp & Google Allo.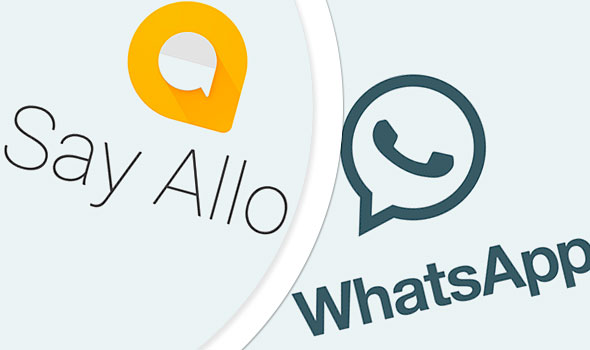 Although, Whatsapp is pretty much doing great and it is also the most popular messaging app having more than 1 billion active user account. But, Allo has come with something unique feature in the market. Even it is  the easy-to-use and has a attractive interface. One of the best features of Allo is that the Google Search function is built into the chat applications. Therefore, it makes the using procedure more convenient for the users to search for information while chatting. Even , in Allo , the users cannot type replies in Allo's case. Users can rather opt for the smart virtual assistant built inside the app.
Google Allo Vs. WhatsApp - Similarities
Both Google Allo and Whatsapp interestingly share a lot of similarities, especially in terms of their designs. In both the applications, we can share images, videos, voice messages and stickers. Further, Allo has loads of stickers because it comes with a large number of sticker packs.
Both Google Allo and Whatsapp require a phone number to activate. They have a Quick reply from Notifications feature .
The Messaging App War Is On?
Both Google Allo & Whatsapp are the messaging app. Therefore, it is pretty much easier to say that definitely, there will be a tough competition. Therefore, the Google Allo VS WhatsApp rivalry is on. Now the question rise  does Allo have an edge over Whatsapp because of Google? 
Now Lets discuss ,the biggest difference between Google Allo and WhatsApp .Allo  has the ability to use Google Search even in the middle of a chat & another  fascinating feature is that it can run independently without having a Google account (it is something nice which Whatsapp don't have).
Further, Google Allo has a  Google Assistant. As we all know, for many years, Google is assisting you in your everyday lives & now through this feature ( Google Assistant), you will always feel that there is always an assistant who want to listen  you and eager to perform as per your command.
We can say that both applications are pretty much good, but it is tough to say Google Allo came with a unique feature, therefore might be , it will attract a large no of users. Meanwhile, if  Whatsapp come with something very unique feature, then this war will be tougher to understand.
Let's see how fast Google can bring users to Allo.